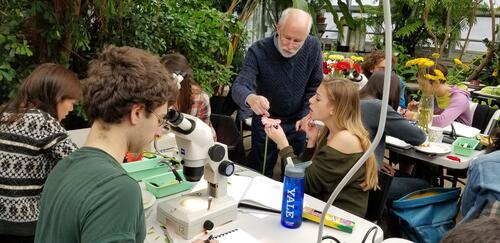 Yale University boasts of world-renowned professors and researchers including students and postdocs, all of whom are at the heart of developing and carrying out researches that provide solutions and impact humans, animals, and the environment. Marsh Botanical Garden is one of the important hub for researches that focuses on plants. Below are some of the research activities that takes place in the garden, and the scientists involved. 
Professor Erika Edwards
The broad interest of the Edwards Lab is Botany and Evolutionary Biology. They are inspired by the diverse ways in which plants look and act, and want to understand how this diversity has evolved. Phylogeny is at the heart of everything in the Edwards Lab, and they are committed to the development of model clades for studying evolution. They also always try to think as integratively as possible, and keep the whole organism in mind as they dive into minutia. Currently they are focused on a couple of different lineages including Portullugo and Viburnum, and questions including C4 and CAM evolutionary trajectory, as well as plant structure and function.
Read more about Erika's work here.
Professor Vivian Irish
The broad interest of Irish Lab is in understanding the genetic and molecular mechanisms that control patterning processes in plant development, with a focus on characterizing organogenesis and growth in the Arabidopsis flower. They are also interested in the extent to which these pathways are conserved or have diversified in different flowering plant species. Using molecular, genetic and modeling approaches, their current research is centered on understanding how cells and tissues are patterned, epigenetic control of developmental processes, and how stem cell activity is regulated in plants. Additionally, part of their work focuses on biotechnological applications to improve agriculture.
Read more about Vivian's work here
Learn more about the Garden's scientific work and how you can use facilities and greenhouses (including pricing and availability).